Bones Fest II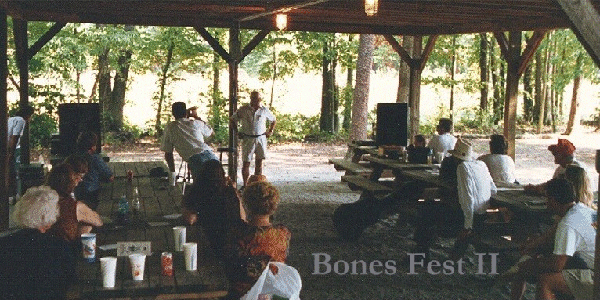 Without question the highlight of Bones Fest II, held at Bur-Mil Park in Greensboro, NC on September 26, 1998 was Russ Myer's, seen here, historical
introduction to the Fest. Most folks didn't know how old this musical instrument is (>3000 BC), that it was first used in religious rites, that Abraham probably left the city of Ur because they had too many bone players in town. The Bones were played in Europe throughout the dark ages and they were popularized in America by slaves on southern plantations. A great review and captured on tape by Al Cowett.

Carl Hedrick was his usual wonderful comic self with historical comments and hysterical challenges about our favorite pastime. Upon his return to Fincastle, VA he got a three page write up in the Fincastle Herald about the bones (that's a lot of coverage). Well Done!
There were several new styles of boning presented at this years festival: Martha added some zest to the Fest with a Swing number where she accompanied The Brian Setzer Orchestra (of course it was on CD!)

| | |
| --- | --- |
| | Russ gave a demonstration of changing the pitch without interrupting play, an accomplishment that few bones players can do. Because of that amazing talent Bones Fest 98 declaired him Mr. Bones USA, 1998. To the left is a picture of Russ recieving his award. By the way, Russ is an excellent teacher. Everett just about has it! (of course he is blaming his difficulties on the bones themselves...) |
Tom Cowett, to the right here, having a very unique approach to clicking, gave us a good taste of what a drummer can do with the bones. He sort of plays them like he plays the drums. He is definitely in control of the clicks (no slop here!)

John Cowett, Martha and a guest, Bill Swerin from "The Talking Drum", (a percussion supply shop in Greensboro, NC) had a great sort of funky type hippie type groovy sound going. Jerry Garcia would have been proud!
New to this years festival were Steve Wixon from TN, who kindly supplied us with most of these pictures, John Cowett From Wilmington, NC, and Tom Cowett from Richmond, VA.
In addition to bones playing, Dan Cowett and Tom Rice prepared some live BonesGrass music on guitar and banjo for us to click to. Great job, and we loved it. Tom also did some special clicking to 1800's music.
The festival's finale was a synchronized harmony performed by the whole Cowett family. The next time we do this in public we promise to rehearse before we go live but it didn't sound too bad.