News
Bones Fest XXII Registration is OPEN and it is International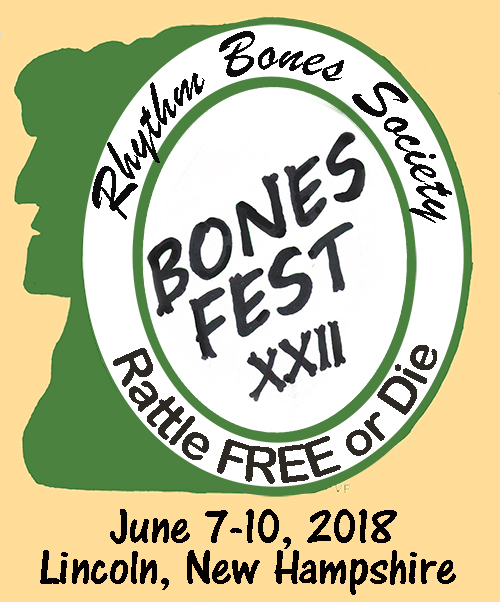 Bones Fest XXII will be in Lincoln, NH on June 7-10, 2018. Click HERE for the preliminary program and details about how to register for the Fest. Tom Connolly of Irish Bones is coming from Ireland to make this an international Bones Fest.
The Danforth BFXXI Perfomance is the March 2018
Video of the Month
Click on the right photograph on our home page to see the next of the monthly Bones Fest XXI individual performances by Jonathan Danforth. Jonathan accompanies himself by whistling, and it is quite captivating.
Rhythm Bones Player, Volume 19, Number 4 is online
Click on the left photo to view Volume 19, Number 4 of our newsletter which is online for one month. It features a rhythm bones oriented trip to Australia and New Zealand and Ozark Mountain percussionist, Steve Green. Also included are a brief obituary for Ronnie Mcshane who died late last year, an update from Nick Driver, a report on the Sea Shanty workshop from Bones Fest XX, and a story about passing Civil War music to middle school students.
RBS Membership Renewals are High
Almost 70% of our members renewed their membership for 2018 by the end of February, This is the fastest ever that we have reached this number, and it must mean this will a good year for us. If you have not renewed for 2018, click HERE.
Press the Back Button to Exit